There will soon be 1.4 billion smartphones in the world. They keep us connected and informed, provide a link to family and friends, tell us where we are and where we need to be. And now thanks to a booming market in fitness apps, they help keep us healthy too.
Activity trackers
Most fitness experts agree that an ideal measure of activity for a fit and healthy adult is around 10,000 steps a day and there are plenty of free apps in every smartphone flavour if you want to keep track of your own activity – though some are notably better than others.
Moves is available on iPhone and Android. This free app works passively, tracking your every move and location with push notifications each morning reporting on your progress. If I'm honest it was installing this app on my iPhone that first inspired me to do this in-depth look at all things tech-fit, as I was shocked by how little movement I registered on a typical scripting day at home. There's nothing quite like your phone telling you…
"Yesterday you walked for 5-minutes"
… to get you motivated to be a bit more active.
More recently this app became a platform, announcing the first wave of connected third-party apps to compliment and enhance its features (something we'll be talking about more as being a key driver for the uptake of this type of technology). There is the small issue of battery life, having something constantly running like this will naturally use more juice, though the effect has been minimal on my iPhone (which to be fair has so much rubbish running on it for testing puposes it's kind of hard to tell!).
Android users who don't want to wait can try Noom Walk, which also passively collects data about your activity and lets you compare results with other users for extra motivational value. There's no third-party link ups, but they have worked extremely hard on reducing the power usage, with 24 hours running the app in the background taking as much battery life as just 3 minutes on GPS.
Other Platforms
There are step-counters and pedometers for the other smartphone platforms, though none that particularly stand out as they offer limited features and don't run in the background. I therefore can't particularly recommend any as I wasn't massively impressed, but just search for 'pedometer' or 'step counter' in the smartphone platform store of your choice and you'll find a couple of free options that will do the job adequately if you just want to count steps during a single journey or activity.
Wearable tech
If you want to get serious about tracking your fitness then a dedicated activity tracking device could be a good investment. It's estimated that the wearable electronics industry will be worth more than $8 billion dollars by 2018, so naturally there are a lot of runners vying for market position – which means a lot of choice for us actual runners. As part of my tech-fit drive I decided to compare four of the leading fitness trackers on the market today. Again, these all do the basic job perfectly well and each has its own pros and cons;
Jawbone UP > $129.99 / £99.95 – apps for iOS/Android
The Jawbone UP comes in a range of bright colours, slipping over the wrist in the form of a flexible bangle. It easily has the most intuitive app, with straightforward data that's simple to log and follow – and most importantly is fun to use. The main feed has a familiar 'social network' feel to it that lets you hook up with friends and leave comments and smilies on each other's activities. You can set silent vibrating alarms to wake you and warn you if you've been inactive too long, and the band logs your sleep patterns too. There's no wifi so you have to plug it in to the headphone jack to sync. For some this might be a downside but I didn't have an issue with it as I'm not constantly checking the app all day anyway, and it does mean the battery lasts twice as long as its competitors. One downside is durability. The nature of the band means it's under constant stress as you take it on and off and there have been some complaints online about things going wrong – indeed my own band developed a fault after a couple of weeks and needed to be replaced. That said, the manufacturers seem to have been good about replacing faulty units quickly so for me it's still the most fun to use overall.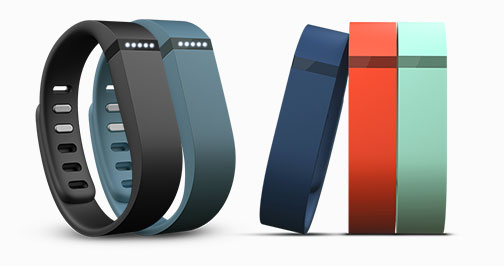 FitBit Flex > $99.00 / £79.95 – apps for iOS/Android
The FitBit Flex does have wifi so the app updates automatically – you also get a USB key to plug into your PC to update the website by wifi, which means this band is good even if you don't have a smartphone. Like the Jawbone it makes connecting to your friends pretty easy, has vibrate alarms and tracks sleep and various other activities. I like that you can buy different coloured bands to mount the tracker in – the set of three in the photo here are around $30 as a pack, though I've only been able to find them available from US outlets so far. The tracker also does a jolly little vibrate to celebrate meeting your daily step goal.
Nike+ Fuelband > $149.00 / £129.00 – iOS app only
Despite being the most expensive tracker the Nike+ Fuelband actually has the fewest tracking options you can set for yourself; the main measure being 'Nike Fuel' – a metric the company has invented for its own use for some mysterious reason. The band auto-detects most sporting activities (apart from cycling) but it doesn't track sleep like the two previous ones, and the app is only available on iPhone. The wifi sync needs to be button activated so it doesn't drain batteries too much though. You can also run it through a web app, updating through USB. It's the least feminine styling to wear, though the readout on the band is very cool and cycles through Nike Fuel, calories, steps and the time. Where this band wins is the huge community if you're looking for group motivation.
Misfit Shine > $119.95 / no £price – iOS app only
Newcomer to the market the Misfit Shine only launched a few months ago after crowd funding on Indiegogo. When it comes to style this tracker out-shines the competition, with a neat clip so you can fix it to anything you're wearing and a range of alternative accessories that lets you style it as a wrist band or necklace depending on your mood. It's a bit short of features right now and only has an iPhone app, but it is early days yet and the close contact way that it syncs with your iPhone is very sci-fi (see video below for more). This tracker doesn't need recharging either as the coin-cell battery you insert is replaceable and is supposed to last up to 6 months. It logs a growing number of activities which you trigger with 3 taps – though I keep forgetting to do that before starting a run. Other than that the app is very basic so I think this is one to look out for in  the future as they build more functions into the app.

Decisions, decisions…
When it comes to making a personal choice I think it will boil down to a couple of things and which is more important will depend on you:
Image – to be really useful this tracker needs to be on your person night and day. If you're style-conscious, looks will play a big part in your decision-making process. For a woman I think the Nike+ Fuelband is way too heavy though perfect for the heavier set male wrist. The Fitbit Flex has the added bonus of being able to buy additional straps in different colours (if you can find an outlet) so you can change it to match your outfit. For me though, the Misfit Shine is the hands-down winner on style – and the quick release magnetic hook is just genius.
Community – motivation can be really tough when you're starting any new fitness regime, so being able to share goals and progress with friends can be a real bonus. If you're a social creature I definitely recommend asking around your Facebook and Twitter contacts to see if anyone else is using a tracker that you can team up with using the same hardware and apps.
The apps – personally this is the biggest factor for me. The core app needs to be fun and intuitive otherwise using it just becomes a chore. But the growing range of third-party hook ups turning these stand-alone gadgets into fully formed, feature rich platforms provides the total killer bonus. When it comes to connected apps the Jawbone and Flex are streets ahead – though the Misfit Shine is actively seeking third-party partners as it grows so shouldn't be ruled out in the future. Once connected these apps share data so you can see from your tracker dashboard exactly how you're progressing.
Biometric data
Some experts believe that biometric data recorded by healthcare apps and smartphones could play a key role in the success of sustainable smart cities in the future. If you still need a little motivation to get fit and start tracking there are some great motivational apps and add-ons to enhance the tech-fit experience – and the growing craze for activity trackers has created a booming market in third-party add-ons that link to a device and provide extra features, like tracking and scheduling workouts, nutrition and weight loss. You don't need to connect a tracking device to use these apps, they are all great motivational tools in their own right.
Workout apps are a great way to motivate yourself and track fitness and calories burnt over time. You can connect with friends for social encouragement too. Runkeeper is free for iPhone and Android and links to the Jawbone UP and Fitbit Flex bands so you can log all your workouts to the central dashboards. The basic features are free and should be fine for most people, with a premium upgrade if you want more in-depth stats.
Another option for Fitbit Flex users to link with is workout tracking app Endomondo, again free for the basic account and available on all the major platforms. It tracks activities in loads of sporting categories, recording location data, calorie counting and social connections to keep you motivated. If you don't have any friends using this app there is a wider community you can link up to, and the site runs regular mass-challenges to give you something competitive to aim for.
Both the Jawbone and the Flex bands link to this popular diet tracker which has totally revolutionised the way I think about food. It's fun and easy to use – just scan a barcode or search through the huge database of food and drink to add your nutritional intake as you go. It's available free on all smartphone platforms and you can use it through the website dashboard too if you don't have a smartphone. This app really boosted my motivation to eat a healthier diet, even changing my shopping habits to make sure I am buying the right kinds of foods for a balanced diet. If you're trying to lose weight I can't recommend this enough, especially if you've reached a plateau and need that extra boost to drop the last few pounds.
If you're working on weight loss the Withings app links to both the Jawbone and the Flex and is a really nice app to use. It's free on iPhone and Android and lets you log your weight and various measurements manually as well as linking to other popular apps for more detail . It also has its own range of hardware extras for the serious adopters including wifi scales that measure your body fat percentage, heart rate and ambient air quality as well as your weight.
If you want to add heart rate data to your tracking apps, Instant Heart Rate is a free app for iOS, Android and Windows Phone that uses your camera phone to count your heart's bpm when you place your finger over the lens. It does this by shining light from your flash through your digit, so that it can see the colour change as your blood pulses through your veins. It's not a medically accurate solution for people with health issues, but a good rough measure if you've just finished a run.
Sounds like hard work
Denon Exercise Freak – £90.00
Once you start getting serious about using apps to aid your workouts you'll need a decent pair of headphones, ideally designed for sports. The bluetooth Exercise Freak headphones from Denon mean no tangled cables when you're out and about and they have their own smartphone app for logging workouts and basic nutrition. They look smart, in a range of colours for the fashion conscious, and have a reflective band on the back for added safety at night. The sound quality is pretty good too with a range of in-ear bud sizes to fit all. Make sure you charge them after every workout though as they last about 3-4 hours in my experience and running out of charge when you're running is really annoying.
Aftershokz – £60.00
The Aftershokz headphones are cabled and use bone conduction speakers to deliver sound which leaves you ears open, a very useful safety feature if you're exercising near other runners, walkers, cyclers or cars. The sound quality wasn't bad, though as you'd expect a little thin at the bass end of the range. You won't want to use these for normal listening though as the sound bleed around you is quite pronounced and bound to cause annoyance to other people is used on the rush hour train.
Extra incentives
When it comes to incentives to encourage activity, for the most part the fitness and motivational apps I've tested have failed – sorry but I grew out of badges, cups and squeaky screen pets when I was about ten. Other than the simple satisfaction of logging activity and watching my fitness levels grow, it's the apps that gamify exercise that have helped  me the most – like Zombies Run, which plays out an on-going drama in between tracks from your favourite playlist. You can choose between half hour and one our workouts, with the option to turn on zombie chases if you want to simulate high impact interval training with bursts of increased speed. The story and actors are pretty good, which is unusual for this kind of venture – and I'm afraid I've fallen a little bit in love with Sam. There are two titles in the Zombies Run collection, with new chapters being made all the time for the main app.
Zombies Run 2 – £1.49
Zombies Run 5K – £0.69
If you're not up to running, just walking a bit more can have a huge impact on your overall health and well-being. Ingress is an early game for Android, and sets the world around you up as the playing space for a huge multi-player game somewhat similar to capture the flag. You choose your side, the Enlightened or the Resistance, then walk around collecting energy sources and attempting to take over any bases you come across. You'll be surprised how quickly those recommended 10,000 steps a day will add up when your mind is absorbed in a game.  Below is a video explaining the concept in more detail. The website states currently that its still in closed beta, but I didn't need to use the invitation a friend sent me when I downloaded the app from the Playstore and started playing. Hopefully you'll be able to do the same – but if not let me know if the comments below and I will try and arrange some invitations.
Words of wisdom
No matter how many gadgets and apps you use there can be no substitute for straightforward good advice – and having spent the last week recovering from a strained hip I know all about the dangers of not preparing properly for a run.  Runners World is a fantastic site for runners old and new, with injury clinics, nutrition information, kit reviews and work out guides covering everything from the best ways to burn fat, to a list of sinful recovery workouts that lay out the time you need to run if you commit a diet crime, which I think is an excellent idea as we all need to sin occasionally:
Small Milky Way (122kcal): 10 mins run
Can of Stella Artois (243kcal): 20 mins run
Burger King Caesar Chicken Wrap (365kcal): 30 mins run
McDonald's Big Mac (487kcal): 40 mins run
Pret A Manger all-day breakfast sandwich (608kcal): 50 mins run
Pizza Express Quattro Formaggio (730kcal): 60 mins run
I'm sure these resources have only just scratched the surface and there are people who have been running and using apps and the web to keep fit far longer than I have, so please feel free to add your own suggestions in the comments below.