"What do you want for Christmas?"
It's such an awkward question because you don't know how much they want to spend and it feels kind of mercenary to ask. If you want to be sure of getting the perfect gift for your tech-obsessed other half this year (or perhaps you want somewhere to direct friends and family who ask you that dreaded question?), here's my suggestions for affordable gifts to add to your list for Santa.
Around £10
Christmas is expensive enough with all the food and going out, so if you just want a stocking stuffer for the geek in your life, these handcrafted soaps from Etsy seller, DigitalSoaps would make a great addition to the bathroom. There are loads to choose from including retro-games cartridges, Xbox and Platstation controllers and even a piece inspired by massively popular online game, Minecraft, which is a snip at £6.51. If there is a teenager in your life who is into gaming there is a very good chance they are obsessed with Minecraft right now, and giving them this gift will not only make you look incredibly cool, it might even encourage them to wash a little more often! All the soaps on sale here are around the £10 mark.
Under £20.00
If your tech-obsessed friend or loved one is forever using the excuse of flat batteries not to text you back, this Christmas disguise a countermeasure as a thoughtful gift. The Lumsing Power Bank is an external battery pack that will recharge whatever devices required via 2 x USB ports. At just £19.99 its a very affordable way to give a (quite literally) memorable gift. It's reasonably lightweight and tests have shown it can refill an iPhone 4 battery five times over.
Under £50.00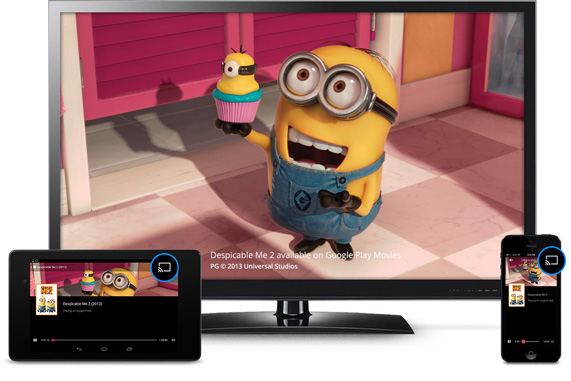 TV and technology have always been great partners. If your partner hasn't got a streaming stick that lets them easily push content from their computer onto the TV in the living room (without having to drill through walls or lay cable everywhere) then this would make a great gift. It's one you can enjoy together too, watching a film from one of thousands of new channels that will be available to you through the web. All the popular solutions now are pretty much plug and play, so even if they are not as geeky as they make out when push comes to shove (we've all been there), there won't be any Christmas morning embarrassments setting it up. Google Chromecast is on special offer right now at £30.00. Roku Streaming Stick is a little more expensive but you get a lot more channels and a wifi remote.
Another useful gadget if your loved one is always attached to at least three mobile devices; the Logitech K480 Bluetooth keyboard is a steal at £49.99 as it is designed toggle between any three bluetooth-enabled devices – android, iOS, Windows, Blackberry – you name it. It might not get you any more conversation on the sofa, but you'll definitely get a big hug on Christmas morning.
Under £100.00
If your beloved tech-addict has been spending too much time in front of a computer you can coax them out with an activity tracker band. No true geek can resist wearing microchips on their wrist and it might make them realise
how sedentary they have been. It certainly did me. I wrote a long feature about it a few months back you can read if you're interested in what else is available. I use the Jawbone UP24, which is a shade under £100. If you're on a tight budget and you can pick up a secondhand Jawbone UP (without the blue-tooth function so you have to plug it in to your phone to update), I actually prefer this in many ways as it gives you an appointment with your phone to overview the data.
Alternatively, completely blow their silicon socks off by grabbing an Arduino starter kit for £62. This little box of tricks will really challenge your favourite nerd's hardcore tendencies, so if you suspect they are secretly on the soft side, steer well clear. For uber-geeks though, this is heaven in a box – everything they need to start building their own little hacked electronic gizmos. Again, it might not improve the Christmas afternoon chitchat, but if you want to see a grown-up squeal with joy because they managed to get some lights on a circuit board to go on, this is the gift for you.
GoPro cameras have been flying off the shelves this year – especially when mounted on a personal drone. With several newer versions already on sale the GoPro Hero is now really affordable at £99.00. Of course you can go up to the new GoPro Hero 4 at £369 if you have deep pockets, just be careful where that camera ends up pointing when you're not expecting it.
Under £200.00
Another gift you can both enjoy is a decent wireless speaker, so you can stream music from your vast iTunes collection or Spotify account, anywhere your wifi signal can reach. The Sonos Play 1 packs a real punch for around £170. I even take my Sonos out into the garden, though you will need to have a power source out there in the shed or something to power it from.
There are bigger models too if you don't mind paying a bit more, and a bridge to help you boost the wifi signal further and further out.
Whatever you end up buying, and doing, I hope you make time to enjoy each other this holiday season too.